All of our puzzle modules, with the exception of Nonogram/Griddler, are incorporated within Puzzle Maker Pro. As a unified download, Puzzle Maker Pro serves as a framework for the various puzzle modules, offering:
A streamlined workflow across all puzzle modules.
Shared features, promoting ease of use for every module.
Effortless transitioning between different puzzle types, while maintaining generic options and settings.
Consistent access to new features and updates for all puzzle modules.
Let's explore the different powerful options of Puzzle Maker Pro:
Puzzle Maker Pro Overview
Puzzle Maker Pro boasts a compact main window design, specifically tailored to accommodate users working on smaller laptops while ensuring full visibility of options and buttons. For those who prefer a larger interface, the window can be maximized or easily resized by dragging the edges to the desired dimensions.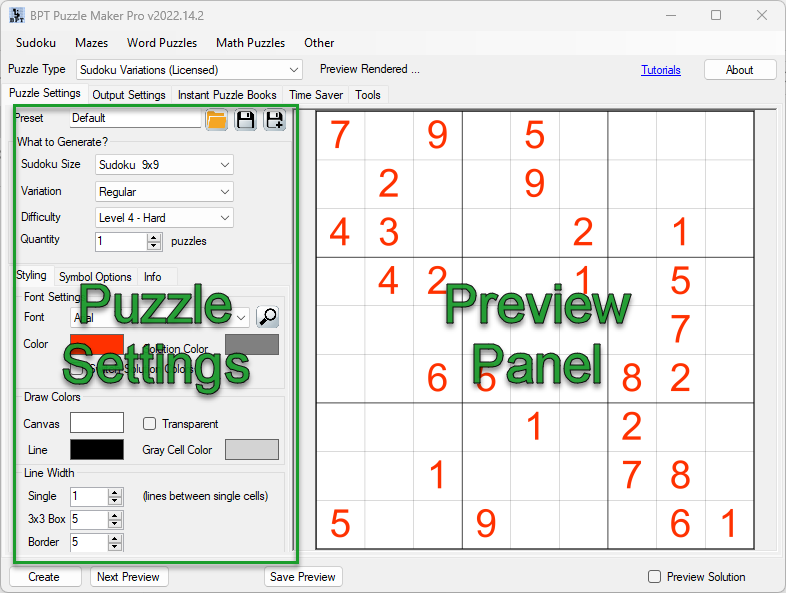 At the left you can see the puzzle settings. The content of this area will be different for each puzzle type. At the right you can see the preview panel – This will show a preview of the current puzzle type, using all the customization and options that you selected.
There are four additional tabs with lots of options, and there are some specialized dialogs for color and font setup.
Output Settings
Generate separate files for puzzles and solutions on your computer for maximum versatility and convenience.
You decide where and how you want to save the puzzles and puzzle books

Set up project folders for your different projects
Automatically set up subfolders, based on date, puzzle type, or project name, to help you organize your puzzles and puzzle books

Export puzzles as JPG, PNG, or transparent PNG images in either 300 DPI (commercial print quality) or 96 DPI (web-optimized resolution).

For some puzzle modules SVG and/or XML export are available

Commercial Rights! You can sell the puzzles and keep the profits.
Instant Puzzle Books
Generate Puzzle Books in PDF or MS Powerpoint format from the puzzles you create
Set your own trim size
Set your own margins and padding
Puzzle layout is 1 puzzle per page by default, unlock additional options with the Time Saver add-on for your puzzle type
Customize titles for the puzzles and solutions
Commercial Rights! You can sell the puzzle books and keep the profits.
Read more about Instant Puzzle Books.
Time Saver
Enhance your puzzle creation experience with the Time Saver Add-On, tailored for each puzzle type, such as Sudoku, Mazes, and Word Search. This powerful add-on offers two distinct functionalities:
Additional Layout Options: Elevate your designs with grid layouts featuring more than one puzzle or solution per page. More information: Instant Puzzle Books
Batch Puzzle Creation: Streamline your puzzle generation process with these one-click capabilities:

Produce puzzles with varying difficulty levels for Sudoku or diverse sizes for Mazes and Word Search
Generate Sudoku puzzles with multiple variations
Effortlessly create word search puzzles using different word lists, either combined or separate
Tools
Some functions that work for Puzzle Maker Pro as a whole:
Save window position between sessions
Set a default 'new project' name
Clear project folder
and more…
Presets
For each puzzle type, you can save all your customization settings as a preset. This includes the font settings, puzzle variation, size, colors, and more.
Additionally, you can use presets in the Time Saver Add-On, this will save all the settings for the Time Saver.
In the TIme Saver Add-On, you can also use the regular puzzle presets, so you can create a puzzle book that's built with your own pre-saved puzzle preset settings.
Font Setup Dialog
In most modules in Puzzle Maker Pro you can set the font settings with an advanced dialog window:
Color Setup Dialog
In Puzzle Maker Pro you can use our custom Color Select Dialog, with different options to specify colors:
RGB – Red Green Blue notation, either decimal or hexadecimal
HSL – Hue, Saturation, Luminosity
Use the rainbow bars to click a Hue, then the saturation and the luminosity
Optimized for Windows
Currently, Puzzle Maker Pro is for MS Windows only. It should work on Windows 7, all development is done using version 10 and 11. There are no plans at the moment to create a Mac version. However, it will work on a Mac when you use software like Parallels or Virtualbox.
Support and Updates
Puzzle Maker Pro licenses are a one-time purchase, which will give you eternal rights to use the module or modules you purchased. Updates to Puzzle Maker Pro usually include new or improved generic functions. However, new puzzle modules are an additional purchase.
We're a small team, and we try to fix bugs quickly, however, we have to balance software development and maintenance with customer support. Sometimes you'll have to wait a day or two for an answer. Please see https://help.bookpublishertools.com for lots of information about the different puzzles and puzzle modules.
Commercial Rights
It's stated elsewhere as well, but it's also being asked a lot: You have Commercial Rights on everything you create with Puzzle Maker Pro (unless you add images for which you don't have the rights). That means you can:
Sell the puzzle books as print books with KDP
Sell the puzzles and puzzle books as printables on Etsy
Sell puzzles or puzzle books on Fiverr
Sell puzzles or puzzle books as PLR on your own website
Et cetera. Et cetera.